Early morning in Prague. I am driving my son to school. The traffic is bearable.
"Hey, Dad", he said, "Do you want to go to Greenland?"
Our journey began.
Going there in the winter requires a bit of preparation in front. Many websites and blogs give you advice. Listen to them. Do your research.
Some things to know from our experience:
You will need good waterproof shoes with removable ice cleats.
You should follow the 3-layer technique. Get as much clothes as you can. You would probably only wear some of them, but being prepared is good.
Bring a good hat that covers your ears entirely.
Sunglasses – you are lost without them.
Get yourself a good water bottle and use it.
Learn about the culture, history, and the people before going there.
Oh yes, Greenland is an Island, there are towns and around 56,000 people.
In most places, you can pay via credit card.
People rarely speak English, so please be patient.
Learn a few words in Greenlandic before you go there.
Discover what food you want to try and write it down in Greenlandic. It helps a lot!
The Greenlandic red ruby is a lovely gift you can take back with you.
Take some snacks with you. Buying food might be problematic if you are visiting smaller villages or on a long trip.
Buy a virtual SIM card before your trip or a local SIM when you land.
First step Denmark
A few months later, equipped with lots of clothes and cash, we started our trip to the land of the Inuits.
The easiest way to go to Greenland is via Copenhagen. The hostels there are different from what they used to be. There was a lot of fun, a bar, dances, and music in the one we stayed.
We had a few hours to kill before the flight, so we explored the beauties of the capital. It was cold. It was beautiful. I will not spend more time writing about this city because the beer price there is ridiculous.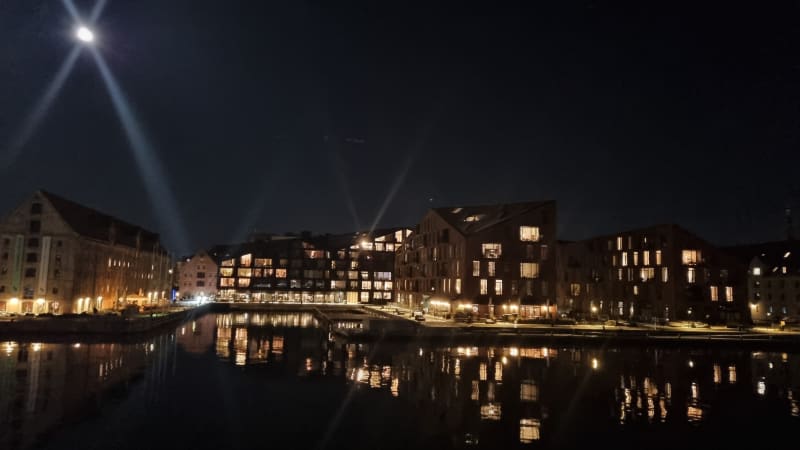 Kangerlussuaq
The flight from CPH is not directly to the capital of Nuuk, where we decided to spend the most time, but to the small town of Kangerlussuaq. It's a former military base and the only place a big plane can land.
Did I say a big plane? We thought we were the only ones crazy enough to go to Greenland in the winter. We were so wrong. It was a trans-Atlantic Boing—lots of curious people and us.
The town was super welcoming. It's sad because no one stays here. Most people take the next smaller plane to their location. We decided to stay there because this is one of the few access points to the Ice Cap. We are explorers.
Polar Lodge
The Polar Lodge is one of the few accommodations in the town and the most efficient for us in terms of money/ distance from the airport. Their staff is super friendly.
Our first challenge was walking on ice from the airport to our hostel—five hundred meters of "welcome to Greenland" experience.
The hostel was so different from the one in Denmark- no bar, music, dances, or fun. I loved it. It was on the airport's outskirts, and you could watch all the landings.
To the Ice Sheet
The forecast said it would be around -17C. How nice!
After we changed our "European" clothes with the one more suitable for Greenland, we found ourselves in a bus-like vehicle a few hours after the landing on a 25 km-long trip to one of the most fantastic places on Earth.
The local guide shared curious stories about the white bears in the region, the flora, and the fauna. He didn't seem to believe that there is global warming.
We had many stops along the way to look at the beautiful nature. We were able to see a muskox and a polar rabbit.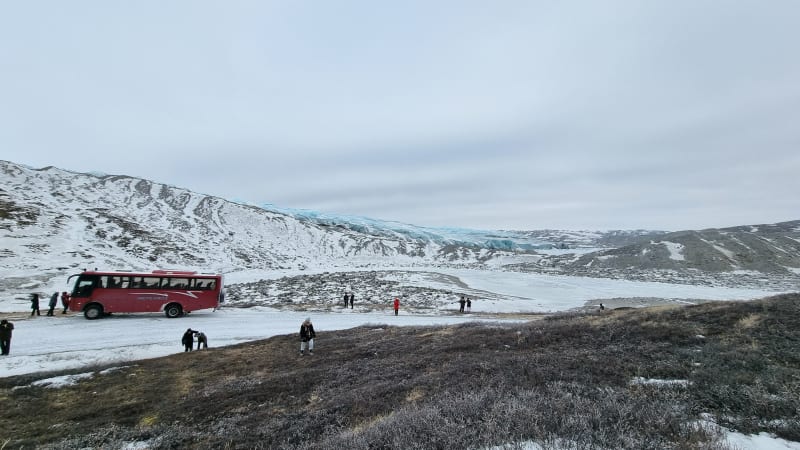 Umimmak
If you have never heard of a musk ox (or Umimmak in the local language), all you need to know is that they are animals living in the Arctic Circle.
They appeared on the island in 1960 in an experiment to save them from extinction. There were just 27 of them moved from nearby Iceland. Now, there are more than 10,000. They weight over 300 kilos. You can see them in the wilderness around the ice sheet. They are one of the few food sources for the locals and visiting tourists.
On the Ice Sheet
We are at the ice sheet after a 25 km ride on a terrifying road. This road is the only one in Greenland that leads on top of it. Since the town used to be an American air base in the war, there are many funny stories from that time. I am tempted to share a few with you, but I recommend you go there and hear it yourself.
If you are looking for facts about the ice sheet, there is an excellent article on Wikipedia about it. You feel like you are in another world. The deep blue ice below. The kilometers of whiteness in front of you. The cold! You are walking on something that is at least 100,000 years old. And yet, we are destroying this with our actions.
It's time to return to the lodge and sleep a few hours. On the next day, we need to be at the airport and take our plane to our leading destination – the city of Nuuk – the capital of Greenland.